Do you want to take your handmade Etsy biz to another level?
To sell handmade products on Etsy, you need a handmade Etsy business. Simply ticking standard marketing strategy boxes will help your store, but they won't take a business to another level on this unusual and unique marketplace.
Etsy sellers are separated by a great divide. On the one side, there are the bohemian purists who provide handcrafted goods to a small group of similarly purist buyers. On the other side, thanks to a huge shift in Etsy policy, sit the megastores that warp the lines between quality and quantity.
The greatest Etsy store success stories are nearly always placed somewhere in between.
Do you want your Etsy business to succeed?
If you operate a purist handmade Etsy business, it's time to change tactics.
How To Plan And Organize Your Etsy Activities
Whether you own an existing store or want to set up a new one, you'll have to deal with a lot of change. Any type of online business is tied to consumer behavior. Etsy might have been the place to go for a very specific type of customer when it first started, but that's no longer the case.
Naturally, the first step toward a successful store is knowing what Etsy expects you to do. Have a good read through the Etsy Seller Policy. There's nothing worse than doing all the hard work, then realizingthat some or all of your products don't fit the Etsy rule book. This policy also includes information relating to costs, and seller and buyer protection. It's an essential read, even for existing sellers.
As with most online businesses, the trick is in preparation. You don't want to trickle in a couple of products as an introduction. It's always better to put together a full package of products and launch them all at once. This tactic increases visibility and turns you into a one-stop-shop for an organic, steadily-growing fan base. As Etsy customers are well known for their loyalty, that fan base can maintain your success as you wind your way through the twists and turns of different Etsy marketing strategies.
I also strongly recommend you design and launch a website simultaneously with or preceding your Etsy shop opening date.
All of the above are part of the all-important research stage. Before you even think about opening your handmade Etsy business, you need answers to the following questions:
Exactly what am I going to sell? How do I describe it?
What is my target niche?
Do all of my products meet Etsy requirements?
What prices does my competition sell at?
Can I compete with my competition's services and prices? If not, why not?
What other products can I sell to expand my outreach
What does my brand look like (name, logo, colors, buzzwords)?
How easy will it be to change my strategy/product selection further down the line?
What does my website look like?
How can I refer visitors to my store (website, backlinks, influencer, guest posts, social media profiles)?
What analytics and auditing tools do I know how to use?
What is my profit margin on each product?
How quickly can I ship?
What locations can I supply to?
How many orders can I deal with on a daily/weekly/monthly basis?
With the above information noted and absorbed, you can start to set up your Etsy goals.
How To Set Up Etsy Goals
🎯
There's only one main Etsy goal, right? Big profits!
But many Etsy sellers don't look at the countless mini-goals that act as stepping stones toward the ultimate prize.
Because of this, they think they are failing.
Etsy shops open and close all the time. To avoid becoming one of them unnecessarily, it's essential to look at the steps that come before success.
Let's look at Etsy's own guiding principles, as these help us find our own way forward. By integrating these into your own business plan, you automatically fall in line with exactly the type of consumer Etsy attracts.
Etsy Guiding Principles And How To Integrate Them In Your Etsy Business Plan:
Our mission is to Keep Commerce Human.
Uniqueness, respect, and creativity must be part of your own list of goals and principles if you want to sell big on Etsy. Uniqueness in terms of at least one of your top selling products; respect in terms of your customer service: creativity in terms of visual wow-factor as well as the items you sell. How to build Etsy brand logos that reinforce the position of your business is required knowledge – because above all things, Etsy is a visual platform.
Committed to our craft.
It's not enough to handcraft a product and stick to that format for good. Learning how to tweak and improve that product or add others to a changing catalog of goods means you never become boring and you always keep up with the latest Etsy trends. You're committed to being … and remaining … the best crafter (and seller) you can be.
We minimize waste.
A huge percentage of Etsy buyers strive to be environmentally friendly. Giving them the opportunity to do this is imperative. If you can reuse materials or seek out zero-waste packaging alternatives, you're working according to the wishes of the Etsy community.
We embrace differences.
Diversity and inclusive cultures can also be translated into products that attract greater numbers. A card supplier should never limit itself to Christian holidays and birthdays, for example. The research stage, in this case, would already have put together a broad range of celebrations from every possible culture. Not only does this increase potential customer numbers, it makes that card business a one-stop address for anyone who wants to send a card.
We dig deeper.
By being curious about future trends, new designs and technologies, and understanding consumer behavior within your niche(s), you keep up with what your customers actually want.
We lead with optimism.
Etsy talks about ambitious goals and reimagining what is possible. The same applies to your fluid Etsy store. Fluid because you do what it takes to achieve that ultimate and ambitious goal of profit, by reimagining the stepping stones to that goal whenever necessary.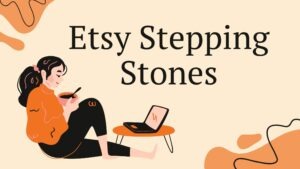 Etsy Stepping Stones
With your own guiding principles matching those of your chosen marketplace, arranging stepping stones toward the ultimate goal is the next task.
Having two or three separate pathways, all leading to the same lucrative location is advisable.
Why? Etsy is never simply about creating and selling. It's more about marketing and selling.
Handmade Etsy Biz: Path One
🛍️
Your store. This is where you put your shop- and product-related stepping stones. Aim to expand your catalog of products over a specific timescale, such as 10 new products over the next 3 months. It's no great secret that the more items your store sells, the greater your chance of success. For the purist, that strategy might feel like selling out.
This doesn't need to be the case.
Selling downloadable how-to's relating to your skills set, for example, can show Etsy buyers how intricate your chosen craft is while adding an extra two or three products to your catalog. Reselling the materials you use in your chosen craft could end up costing less for your own needs – most suppliers will provide discounts when you buy in bulk. Producing smaller versions for kids or personalization options as regards your main product gives you plenty of scope for additional products that pop up in a wider range of search results.
There's no point in setting yourself earnings goals, by the way. On Etsy, you only increase sales by expanding the products you have on offer.
Handmade Etsy Biz: Path Two
✨
Path two is marketing – the most important path when it comes to Etsy success. Here is where your website and social media strategies are planned, one step at a time. If you opt to use Etsy Ads, this is where you decide when and where to use them. Steps might involve regularly recurring reminders to research Etsy keywords, as these tend to change a lot.
Photography and metadata also play central roles, especially as the Etsy search engine algorithm now matches search terms like 'square' and 'textured' with the metadata attached to your photographs, as well as the subjects of photographs themselves. Sell hand-painted plates with clear, full-on photographs, and you might find them popping up in search results for 'circle wall art' simply because the plate in your photograph is round. It's all free advertising.
Etsy marketing is no simple task. Yes, you can use on-site tools and analyze your results until the cows come home, but there's no simple route. It's such a fluid and trend-based marketplace. The keywords, descriptions, images, and even products you use with success today might not achieve the same results next week, perhaps even tomorrow.
The only option here is a regular audit.
Handmade Etsy Biz: Path Three
🤗
Path three is customer care. To achieve top points, all Etsy sellers should treat every customer like royalty. In turn, positive customer feedback earns you Star Seller status. That's just as important as the financial profits that result from Etsy buyer loyalty and appreciation.
Customer care is actually part of your marketing strategy, as positive feedback drives visibility and sales. Yet you should treat this path as a separate entity, because while marketing strategies are fluid and change with the times, good customer service takes the form of a solid, unchanging and reliable foundation.
In Etsy terms, this means transparency with no or very little small-print or additional costs. It is better to only sell to customers eligible for free shipping than offering free shipping on a more general listing … only for the customer to have to select a non-eligible country at a later date. Set up two listings for the same product instead – one for free shipping at eligible locations, another for the locations where shipping costs apply. That way, you'll earn Etsy buyers trust.
Customer care also means delivering a product that matches the photograph. So many memes exist about 'What I Ordered On Wish/What I Actually Got From Wish'. Don't join that crowd at any cost!
Avoid stock photographs and instead use unique photographs to provide additional information that puts you head and shoulders above your competitors. Place a ruler alongside the product, for example, or create a collage with different available patterns or colors of the same item. Implement Etsy's guiding principle of uniqueness and create very different visuals that prevent potential customers from scrolling past 'yet another' listing of the same item.
Finally, honor order and dispatch times. Planning a sudden launch that creates immense interest is a huge win for your marketing path, but if the customer care path can't keep up – if you get too many orders and are unable to cope – the consequences will take months to rectify.
Negative feedback sets you back … every single time.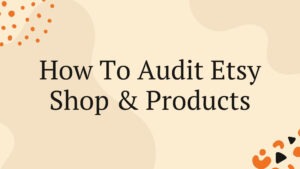 How To Audit Etsy Shop & Products
Not surprisingly, you can buy downloadable Etsy shop review strategies and audits from a huge number of sellers. If you have an eye for detail, it's easy to write your own.
When should you do an Etsy shop audit?
When you're at the shop preparation stage
When you skipped the shop preparation stage
When your products no longer exactly match your brand
Every 3 months if none of the above apply
You just can't get away with ignoring an Etsy audit!
From designing new listings and freshening up old ones, to checking backlinks from other sources and checking up on your social media influencers, auditing takes time. Put aside an entire day to get things right because you'll almost definitely need it. Even though editing your shop is simple (click on 'Edit shop' on your shop's homepage), all the rest can be extremely time consuming.
Don't forget to check your store and items from different devices: desktop, tablet, phone. Sometimes, software changes can affect your listings.
Think about your tagline for current and future products and adjust to meet current trends. Don't waste important space with repetitive, low-value words like adding your shop name to a product description, for example. Keep all of your text conversational wherever possible – a list of keywords turns customers off. Etsy buyers especially are looking for the personal touch, so converse with them.
Dates need to be updated, such as the copyright date on your partnered website or the date on your shop announcement (all too often forgotten). If your announcement is dated from when you first opened your Etsy shop doors and it's now 2 years down the line, potential customers will wonder why. It's a huge trust-killer that can be fixed with the click of a button.
A picture of yourself on the About page could show you designing or creating your latest product. This update will also prove to your public that you're real, alive, and kicking. An out-of-date Shop Owner page might mention you've been crafting for 5 years when you've now got a decade of experience.
We tend not to take note of these things; however, a new buyer looking for a trustworthy Etsy seller is much more likely to. So you'll need to know how to build Etsy relationship bonds with both existing and potential customers to gain and maintain trust and loyalty. The best way to do this for your visual presence is through regular audits.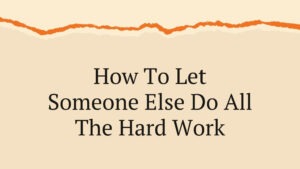 How To Let Someone Else Do All The Hard Work
The above information is extremely helpful but nowhere near exhaustive! Volumes have been written about Etsy marketing; we can expect much, much more to be written as time goes by. Another big Etsy search engine algorithm change is on the cards. What can we expect in 6 months? Or a year?
Etsy Geeks knows.
Etsy Geeks has kept its finger on the rapid Etsy pulse for over a decade. We've got so used to how this site works, we've become experts at anticipating how and when it changes. It's thanks to us that hundreds of Etsy shops are able to continuously reap the long-term rewards of this unique marketplace.
Why?
We can guarantee the top ten ranking for Etsy seller products … or we'll return your money. In full.
This hasn't happened very often at all.
Because we achieve our top 10 ranking goal 95% of the time!
For a fluid and slightly flawed site like Etsy, that's powerful proof of our expertise.
The geeky Etsy Geeks team navigates every marketing stepping stone, leaving you to focus on creativity and customer care.
Join our long list of happy Etsy sellers today and let us do the time-consuming tasks at extremely affordable – and transparent – prices.
And of course, we can guarantee you won't regret it … or your money back!