Every seller needs Etsy digital products ideas. Printables and downloadables are central to more views, visits and sales. And there's no need for time-consuming packaging and deliveries once you've done the creative work. In 2022, Etsy digital products are spread through more categories than ever.
Today, I'm going to run through the top Etsy categories that give plenty of scope for digital ideas. We'll discover a group of successful Etsy sellers and look at how they pull in sales via low-cost downloadables. I'm sure this blog will give you plenty of time- and cost-cutting ideas for your own Etsy shop! As well as a whole heap of inspiration.
Etsy Digital Products: Selling Like Hotcakes!
Before we start, let's take a quick look at the legal side.
To resell items that have been designed by someone else, you need a commercial use license. But it's always best to come up with your own designs. Because Etsy buyers like the idea of purchasing from the original artist whenever possible. And when you've come up with the finished product, make sure you add a copyright icon (and a watermark) to your images. You don't want to experience idea theft after designing the perfect digital product for your Etsy shop.
How Do I Create Digital Products For My Etsy Shop?
It's not that hard to make something special if you have a creative mind and basic graphic design knowledge. Even if you don't, there are plenty of free graphic design tutorials out there for a whole range of free or paid software. To start producing digital products on Etsy, follow these steps:
Design your product on free or paid software. Read the T&Cs carefully; some websites (especially free plans) don't allow commercial use for finished designs). Think about different paper sizes and types (like paper for stickers, shiny, or matt) and base your design around easily available options. There's no point designing a downloadable poster if your customers don't own huge printers or want to pay the extra for a print shop.

Format your finished design as a PDF file (or another format like PING). Bunch similar designs or sets together in a zip file.

Create a top quality mockup of your design for your product listing image.

Research your keywords and categories! Sometimes the 'Paper' category is the wrong choice!

Research product pricing by checking out your competition.

Create an Etsy listing and select Digital as the product type.

Upload your PDF or alternative file format – this is what your customers receive and print, so test that it works perfectly!

Continue with your marketing strategies: sign up with Pinterest, Instagram and/or Facebook, check the stats and feedback of your digital products as they come in, and tweak your Etsy SEO
Are you ready to get started?
Wait!
Research is vital! So how about looking at some Etsy digital product seller success stories as you gather a whole bunch of ideas? I'm going to look at printables and downloadables in the most appropriate categories. Because as I already said, Paper isn't always the best choice.
Art & Collectibles
Karen Ann from NorthPrints is based in Canada. Her shop is a fantastic example of how well Etsy harmonizes with social media channels. NorthPrints enjoys Top Seller status. A very successful shop with fantastic reviews, you'll find Karen Ann's printable art selection high on the Etsy SERPs.
Her specialism is the digital enhancement of vintage pictures; her products meet the needs of two huge Etsy target groups – art and vintage fans. By offering different sizing options with every download, 300dpi resolution, and single prints or complete, harmonious sets for accent walls, anyone who loves vintage art has plenty of options. It's up to the buyer to decide on the frame and paper texture. This means Karen Ann can focus on design – something every artist appreciates.
And NorthPrints doesn't stick to Etsy when it comes to advertising.
Its Instagram page has clocked up over 11,000 followers. Packed with images of Karen Ann's prints on her customers' walls, northprints adds this additional social media marketing layer with almost exactly the same branding as it has on Etsy.
The NorthPrints Facebook page is also kept up to date. But with around just 350 followers, this is a great example of why, when you only have time for 1 or 2 social media accounts, you should pick the visual ones. Like Instagram and Pinterest.
Bath & Beauty
There's not much scope for downloadables when it comes to the Bath & Beauty category. Or is there? What about designing printable tattoo or henna templates?
Rebecca Wasserberg from Brisbane, Australia, sells floral tattoo designs on Etsy in her spare time. Since she opened BecWCreativeStudio in early 2021, she's sold over 500 of these digital products. For someone who doesn't sell on Etsy full-time, that's not bad going!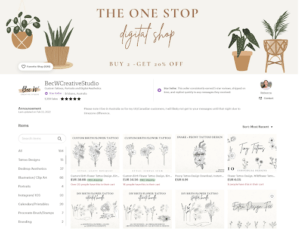 Rebecca is another Etsy seller with an Instagram (becwcreativestudio) presence. This links to her shop and has around 350 followers to date. That's not many, but this is a VERY niche sector. By expanding her digital products to include clip art, desktop organizers, desktop icons, Instagram story highlight sets, and calendars, she never has to send a physical package across the Pacific. Or gift wrap it.
Craft Supplies and Tools
Kate Rose of DigitalCurio has smashed it when it comes to digital design, marketing, and sales. With 1.2 k followers on Pinterest, the same again on Instagram, and 6,000 on Facebook, this mum of 2, living in sunny California, must make Etsy a full-time job. After all, she's sold nearly 600,000 digital products since 2014! Not bad for a one-woman show! At an average of $5 a product, well … you do the math!
Like Rebecca, Kate doesn't need to run to the post office when she sells digital products on Etsy. No late deliveries to mess up those 5 star reviews. Just a great sense of design and social media, and Etsy marketing know-how.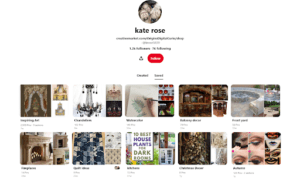 Kate obviously uses different Etsy marketing strategies. She uses the 'sale' label on every product. She stays under the $30 threshold (although high-priced items CAN sell well on Etsy). Her products can be bought separately or in bundles. It's a sustainable way to run a business. And probably a lot of fun, too!
Need a Hand? Try Etsy Geeks
If all you want to do is focus on designing top printables and downloadables for Etsy buyers, how about getting in touch with us?
Etsy Geeks knows everything there is to know about Etsy SEO and making you visible. We can tell you how to make your shop a favorite within your target niche(s). What info to make the most visible. And how to turn all that extra traffic into Etsy sales. We do the marketing. You do the creating. Ready for some more ideas?
Electronics & Accessories
If you know how to write a program for a 3D printer, you won't have much competition on Etsy. But you can't expect huge numbers of sales, either. It will be years before these expensive pieces of equipment are sold for prices we can all afford.
But 3dmodelhouse in Istanbul, Turkey has decided to try, anyway. With some success. Although limiting its current catalog to just 13 products, this little shop has made 231 sales to date. Yıldız opened her Etsy digital download shop in 2018 – right at the start of the 3D printing trend. 
To tell the truth, Yıldız could do a lot to improve her results. Her shop lacks a social media profile. And with such a niche target group, this type of product needs all the free advertising it can get. Unfortunately, she'll have problems using her shop name on any social media profile. There are plenty of 3dmodelhouse listings on Pinterest and Instagram, but these cater to a very different audience – of architecture fans. This is a good example of how the right name, recognizable in terms of products, services, categories, and at minimum a very similar name on various social media channels, is absolutely essential.
Like ALL the highlighted sellers on our list, 3dmodelhouse has earned consistent, 5 star feedback from extremely satisfied customers. There aren't enough continuous sales to earn Star Seller status, but for such a tiny niche, there's little chance of that. Even so, we applaud over 200 sales in such a limited sector.
Paper & Party Supplies
Yıldız might want to take a leaf from FamilyTreeNotebooks when it comes to selling niche digital products on Etsy. FamilyTreeNotebook is the brainchild of Carly Morgan of Utah. Etsy buyers have created attractive family trees using her specially-designed notebook pages since late 2019. In just over 2 years, Carly's sold nearly 8,000 products that range from a couple of dollars to full $44 bundles.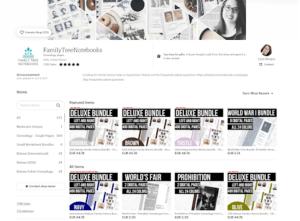 Carly's Etsy success is a typical marketing journey. She encountered a problem when researching her own family tree, designed a simple solution, and advertised and sold it. Etsy doesn't have to be difficult when you solve a problem with your product. The fact that this is a very niche product (how many people do you know with a personal family history book?) shows there's a big opportunity for 3D model design files, too.
So what are the differences between 3Dmodelhouse and FamilyTreeNotebooks?
Product number

Social media presence

Clear shop name

Marketing knowledge
Those crucial factors account for a lot of the difference between 231 and 7786 sales. Carly has only chosen one social media channel, but she's chosen one of the best. Instagram. And importantly, she uses exactly the same name: FamilyTreeNotebooks.
Because of this name, Carly has severely limited her target audience. If she decides to expand in the Home & Living category with other downloadable choices, she'll need to open a separate shop with an appropriate name. And there are plenty of Etsy printable ideas for the Home & Living category:
Calendars

Love and appreciation notes to leave all over the house

Groceries and new move lists

Decorating planner

Renovation planner

To-do lists

Journals and diaries

Best-before labels for homemade dishes

Photoshop services

Inspirational and quotes

Recipe sheets

Wall art (one of THE top Etsy sellers)
So having a game plan early on is vital. If you know you're going to stick to a single niche, by all means – like Carly – choose that slam-dunk shop name. But should that niche fail you, you might need to start from square one. Unless you've thought up a name that covers more than one product.
Pet Supplies
Beware of the Dog sign? Paw prints to decorate walls or folders? Personalized pet stickers? Home-printed landscapes for a goldfish bowl? With clipart, you can give huge target groups a wide range of printable choices. All you need is some graphic design panache.
And, like ClipartWarehouse in the United States, a downloadables business could shoot into the top 20 for Etsy growth and the top 100 for Etsy sales volume.
ClipartWarehouse has racked up nearly 60,000 transactions since February 2021! And this shop doesn't even have a social media presence… how does Tracy, the shop's owner, do it?!
Well, ClipartWarehouse isn't new to the scene at all. But it used to sell much more than clipart as another shop. After realizing the best profits were made in clipart, the marketing goals were changed. And with over 10 years in the Etsy business, all Tracy had to do was contact one hundred thousand buyers about the new shop.
Social media is less important  when you are a solid, trusted brand. How many times have you visited the Starbucks website? Sometimes, the name and reputation is enough. But that's not a reason to get lazy. A social media presence is expected, nowadays. So sign up to at least one.
Of course, relegating ClipartWarehouse to Pet Supplies was a bit of a cheat. But it gives another angle on the DIY sticker and signage industry Etsy is renowned for.
Toys & Games
Stephanie Hathaway from Kansas City is an Etsy veteran. She's been designing printables since 2015. From $2 to $25, her bright and carefully curated Etsy shop gives plenty of choice for printable fans.
It focuses on the Toys and Games category, producing fun and educational cards. StephHathawayDesigns also partners with print shops to cater for customers who don't own a printer, or don't want to do the work themselves. That's a clever Etsy strategy.
Without resorting to Etsy Ads and overuse of sale items (there's only 1 sale product at present), this brain-stimulating seller seems to have everything right. Nearly achieving the 70,000 sales mark, and with that all-important 5 star feedback, Stephanie doesn't seem to need Star Seller status, either. Her success is naturally also due to stunning, child- and adult-friendly artwork.
You'll find this successful Etsy seller on Instagram, too. Just look for the same name on a different network: stephhathawaydesigns. Here, she delights an incredible 46,000 followers with regular, visual posts. Exactly the same kind of unique visuals buyers like to see on Etsy. 
Educational and learning printables are a great addition to an Etsy shop that uses its own creative designs. Getting some new games before a family holiday or get-together without dragging a box around is exactly the kind of product that families and friends want. It solves a problem. Does your shop only cater to adult audiences? Why not add a few steamy card games to your catalog!
Weddings
We're close to the end of our Etsy digital product rundown. And let's end with the most lucrative category on the world's biggest creative marketplace. Etsy Wedding Printables! These deserve a category all of their own!
MarryMePaperBoutique, owned by Star Seller Rhonda (that's right, all these successful Etsy sellers are female, just like the majority of Etsy buyers!), makes her specialism very clear in that shop name. While her associated social media accounts have surprisingly low numbers of followers, that's certainly not the case on Etsy.
Look at those stats! Since 2013, Rhonda's almost achieved a quarter of a million sales. And with wedding printables starting at $3 and rising to $68, we can safely say MarryMePaperBoutique deserves its Top Seller reputation. Plus, those 7,000+ 5 star reviews definitely aren't fake!
This is a prime example of how focusing on a single marketplace's top-selling niche pays off. But don't start ringing those wedding bells yet. These results couldn't have been achieved without some serious hard work. Rhonda has to design and curate over 3,500 products. That's a lot of work for this graphic designer. And she has three social media channels to manage: Instagram, Pinterest, and Facebook. None of these channels have achieved over 500 followers, but each Pinterest image earns an average of 4,000 pins. Sharing and tagging and pinning is always worth the extra effort.
But with such a huge library of attractive wedding engagement, bridal shower, invitation, programs, seating charts, table numbers, place cards, signage, menus, posters, thank you cards, and favor tags, it looks like most of Rhonda's creative work is done. She's opted for a very clever target group expansion, too. MarryMePaperBoutique also produces printable baby shower and baptism card designs. She's bound to sell these to many of her loyal wedding customers!
What's Your (Next) Etsy Printable Design?
I hope you've been inspired by these printable seller stories, and lots of Etsy digital product ideas. That mix of great customer care (for 5 star feedback), attractive and unique design, innovative ideas (like downloadable 3D printing files), sustainability, usability, and social media (in most cases) surely seems to pay off.
And strangely, or perhaps not so strangely, none of these sellers have had to rely on Etsy Ads. It seems their success lies in the combination of clever creativity and sheer hard (marketing) work.
So what's your first … or next … Etsy printable going to be? Even as the lowest priced product in your catalog, it could be the making of an incredibly profitable aisle in your virtual Etsy shop!