Wondering, 'how can I increase Black Friday Sales On Etsy?
You've got two options:
Read the advice below and implement as many of the steps as you can over the next, short days.
Or ask the experts at Etsy Geeks to optimize your Etsy shop before the famous Black Friday frenzy.
We'll ensure your Etsy products are high on the right keyword search results on the hottest shopping day of the year.
For any day of the year, for that matter!
Etsy Black Friday 2021 – The World's Biggest Shopping Day
Black Friday started in the U.S. It's the day after Thanksgiving and always falls on the last Friday of November.
This super-sales day has become synonymous with retail profit. It often extends into the following week, all the way to Cyber Monday.
But how profitable can selling your stock at low, low prices be? Is Black Friday profitable for sellers … or is it only good for buyers?
It's main function is for sellers.
Because the Black Friday weekend is a marketing invention. It's designed to benefit commercial enterprises, heavily disguised as a buyer opportunity.
Last year, Etsy stock rose by over 10% on this day alone. It's no great mystery why. Leading up to Christmas, customers are looking for unique gifts for their loved ones. Although Etsy has strayed far from its original bohemian roots, it's still the top online marketplace for people looking for the personal touch. And the perfect platform for Black Friday gifts, and decor.
Yet with hundreds of thousands of Black Friday coupon code ads, discounted prices and customer rewards, getting your Etsy store top of the search result pages on this particular day is beyond tough. You're not only competing with individual crafters. You're competing with huge third-party distributors looking to cash in big.
So how do you increase Etsy sales on Black Friday?
By making a lot of noise, giving the public what it wants and ensuring you use the right marketing tactics to skyrocket your storefront's visibility.
But for an Etsy seller, that's only half the story.
Why Should I Take Advantage of Black Friday Sales on Etsy?
It's true … giving your customers discounts means less profits for your Etsy shop.
But Black Friday for the consumer and Black Friday for the seller are two very different things.
For you – the seller – it's about marketing first and profit second. Black Friday is the best day of the year to advertise your name through numbers. It's an advertising opportunity for a target group primed to spend.
For the seller, Black Friday is about visibility. This single day can achieve even relative newcomers the Star Seller status, with all the perks this Etsy badge system provides.
There's even talk about Star Seller status becoming a crucial and decisive criterion in the Etsy algorithm – internal SEO that can make or break your Etsy-based business.
For Etsy sellers, Black Friday isn't about making an immediate profit, Although use the advice here and you can definitely increase turnover. Instead, it's about getting the orders and feedback you need to keep your store visible for the rest of the year and beyond.
Star Sellers need to:
Fulfill at least 10 orders a month
Sell at least $300 worth of products
Respond to 95% of customer queries within 24 hours
Be an operational shop for at least 90 days
Ship on time
Receive 5-star ratings at least 95% of the time
Black Friday gives you the ultimate opportunity to achieve these goals.
And so much more.
How Far Ahead Should You Plan Your Etsy Sale?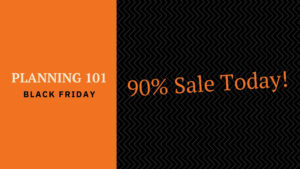 If you're thinking of planning your Etsy Black Friday strategy now, you're running way behind schedule.
Most e-commerce success stories start planning a Black Friday campaign in the summer months. They know it's a great way to get rid of old stock and get their hands on that all-important Etsy characteristic – loyal customers that keep coming back for more.
If you're only considering what to sell a couple of weeks before Black Friday begins, you'll need some help. There's a lot more to the day than lowering prices. After all, you're not the only one who's going to do that.
The earlier you start, the better. So ask Etsy Geeks to give you a hand this year, and plan to get an early start for your Black Friday 2022 campaign!
Existing customers should ideally be told about what to expect from early October! A banner on your Halloween ad, targeted emails with Black Friday coupon codes, extra loyal customer discounts and retargeting ads … all of these make a huge difference to how your Etsy shop performs throughout the winter months.
It's no coincidence Black Friday falls in the pre-Christmas months. The customers you gain in the sale weekend will probably return to you to purchase Christmas gifts; Etsy has one of the highest returning customer rates.
Add social media posts and website landing pages with direct links to your store to avoid becoming hidden in the mad November rush for top results page rankings.
What Discount Strategies Should I Use?
Etsy Black Friday discounts can be scary for smaller sellers. How can someone who handcrafts unique products offer hours of hard work, materials and skills at 70% off?!
On Black Friday, buyers aren't much interested in a 'mere' 20% off. Most sellers start to see orders truly increase at 50% price reductions or more. So if these numbers make you grit your teeth, it's important to see Black Friday deals as a marketing investment, especially on a marketplace like Etsy. With this perspective, it's a little less painful to let items go cheap.
Discounts on multiple items can dilute potential losses: 30% off a first item and 50% off for two; buy two get one free; free personalization when you order 5 items. All of these are profit damage control and have been used for decades with great success.
Listing a limited number of discounted items and reducing this discount on a day to day basis can also help counteract losses. Which means spreading your Black Friday campaign over the weekend and into Cyber Monday is a smart move. Again, the extension of Black Friday to Cyber Monday is a marketing mechanism to get maximum outreach before Christmas.
Selling stock you've been unable to shift during the past year for crazy prices is a sure-fire way of freeing up warehouse space. This tactic has been used in the fashion and design industries for years and years. Not many people need a sleeveless top in the middle of the winter. But they'll buy it if it's 75% off.
An Etsy coupon code won't have the same effect as an immediate price drop, but don't ignore this strategy. Coupon codes work best with existing customers. Allowing a loyal Etsy buyer to add a coupon code to a sale price (an extra 10% to 20% off, for example) means you don't have to suffer the same level of loss from new, unproven customers. Extra discounts for signups via social media redirects will extend the effects of Black Friday 2021 well into 2022.
What Products Should I Discount?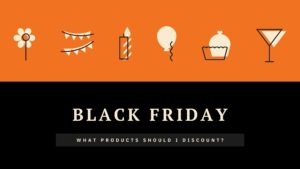 You don't need to offer every product at an earth-shattering discount, but many sellers are convinced – and have proven through the years – that Best Sellers items should be given the biggest price reduction.
Why on earth should I drop the price of something that sells well at its regular price?
Unless you are producing bestseller one-offs no-one else can copy – either due to complexity or because you hold a patent – someone else will be dropping their prices.
Not only does this damage your new customer potential, but it can also tempt away existing, previously loyal ones.
Excess stock, aging stock and items that no longer fit with your Etsy image should be offered at practically give-away prices. They have the potential to earn back your investment costs through order numbers and feedback – top Star Seller criteria. Just make sure you can ship high order numbers within your selected shipping time or that feedback won't be 5 star.
Mid-selling items will leave the shelf at a lower discount of between 20% – 30¨%, but give your customer a target sum and you'll reap bigger rewards. For example, 10% off all orders of $25 – $49.99, 30% on orders of $50 – $74.99, and 50% on anything $75 or over. This proven technique works on any day of the week, but particularly on Black Friday when the customer's urge to get the best deal is at its highest.
As for product type, there's no particular item that sells better on Black Friday. For the consumer, it's all about the best deal, whatever the product. A great opportunity to test new additions to your catalog.
Optimizing Your Store For Black Friday Mania!
Black Friday optimization describes how you can physically deal with a sudden influx of orders. For many Etsy sellers, this weekend drives more sales that would usually come in during an entire month … or even a complete quarter. Optimization extends to your storage facility and time allocation. If you can't complete your orders in time, you won't get the 5 star feedback you need for Etsy success.
A preparatory Black Friday inventory is essential. Combine tasks by categorizing your stock into best sellers and older items, space wasters, high, mid and low priced articles, and perhaps one 'tempter' category. This category could represent a financial loss but raises you high above your competition. Tempter categories could change through the weekend, making new customers loyal ones through Saturday, Sunday and Monday deals.
Etsy Store Black Friday Marketing
Etsy can be very unpredictable, especially when you're not a marketing professional. This is why Etsy Geeks focuses on this marketplace alone. It takes a lot of know-how to understand the ins and outs of Etsy marketing on any day of the week. But Black Friday concentrates all this knowledge within a very short timescale; there's no time to rectify a mistake.
The more channels you use to market your store, the more visible you are. But remember, acquiring a new Etsy customer is up to 25 times more expensive than keeping an existing one.
So the first item to tick off your Black Friday optimization strategy is targeting your email list of existing customers.
You also need to make it obvious you're taking part in Black Friday offers through Etsy shop banners, and carefully input Etsy discounts via the dashboard. It's quite easy to confuse coupons and sale prices there, so make sure you select the right options.
If you don't have a website that links to specific items (and these links are regularly updated), why not? When you don't generate backlinks that bring in visitors from other websites, you're missing a vital source of sales. Furthermore, Etsy stores are very limited as to what you can tell your (potential) customers. Websites, blogs and guest posts give you an opportunity to show off not only your products but also your services and knowledge.
Ignore social media at your peril! Add links to your items or store on relevant groups and regularly update your business profile to ensure optimal visibility.
But even when you have done all of the above, getting yourself high on the Etsy results list often seems to be hit and miss – even with longstanding sellers. Check the forums and you'll come across plenty of queries asking why items have suddenly disappeared from search results. Etsy is one of the world's top online marketplaces and its search algorithm is quite complex. It gets worse; in some instances, it is flawed.
Etsy Geeks guarantee your product will be ranked in the TOP 10 search results for any selected keyword. And if we don't get that product listed in its niche within the agreed time frame, we refund your investment. In full.
What To Avoid On Black Friday Deals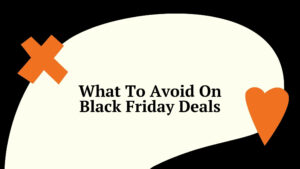 In a digital world stuffed with fake news and dodgy deals, the current buzzword for successful businesses is Transparency.
For Etsy Black Friday deals, this means you should never try to pull the wool over the eyes of your consumers.
Forget hidden costs.
Never bump up prices pre-sale so the customer thinks he or she is getting a great deal but is actually paying full price.
Strive for excellence in every aspect of customer service.
Perhaps one of the best indicators of what NOT to do on Black Friday is to check consumer group advice for the buyers. Which magazine revealed that 98% of discounts advertised in 2019 were available (or offered at even cheaper prices) in the 6 months AFTER Black Friday. Only 3 of 119 tracked products were offered at the lowest price on Black Friday itself.
Ensure your prices match the occasion. While it's tempting to take advantage of the sudden rush for spontaneous purchases by keeping discounts at their most profitable for you, this strategy won't help you in the long run. Big discounts and Black Friday go hand-in-hand
Which also reported 87% of buyers in 2017 checked multiple sources for price comparisons. So if your strategy was to bump up prices pre-Black Friday, chances are this sneaky move will backfire. Price history apps also expose misleading pricing techniques.
Finally, if your customers find out something new or unexpected in the small print, you're doing Black Friday 2021 all wrong. That's not transparency.
Etsy makes personalization of shipping costs simple, your customers should not be required to read a tiny font on a hard to find page that tells them your loudly advertised deal is not as amazing as it seems.
Etsy Black Friday Deals In A Nutshell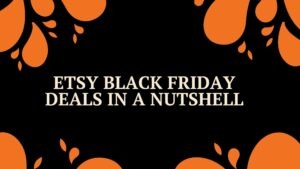 Etsy is such a huge and consistent marketplace, there's no need to rely on Black Friday when you sell the right products for the right prices. But marketing theory tells us this annual weekend is an incredible opportunity to boost new customer numbers. And new customers, especially on Etsy, are very likely to return.
Black Friday is more popular than the January and end of summer sales in a broad range of categories, excluding clothing where the majority of the public still prefer to try before they buy.
No matter which approved Etsy items you sell, Black Friday is a great way to reshape your business. Letting items go that no longer fit your image – even at a loss – is a long-term gain strategy; advertising and storing them is a waste of money. By selling such products at freakishly low prices, they become Etsy SEO tools. They might not earn you an immediate profit, but they can certainly generate profit long-term.
Because, after all, Black Friday was created by marketers for marketing purposes. Use the day (or weekend) in the way that it was intended, and enjoy the effects far into the future.
With Etsy Geeks, Every Day Is Black Friday!
Getting your products noticed on this one day of the year is difficult and expensive. You're up against every Etsy seller; unless you're selling a one-off, you need the equivalent of a Superbowl half-time ad to get noticed.
By asking Etsy Geeks experts to lift your most important items to the top of appropriate keyword listings, product visibility goes through the roof.
Sell to 1% of a million Black Friday Etsy visitors and you'll be very, very happy … for a day.
Sell to 1% of 100,000 visitors every other day of the year and you'll be much, much happier.
So send us a message, have a chat or give us a call. We're one of the few Etsy expert teams out there. And we're known for getting results … fast.
If Etsy Geeks can't get you noticed, no-one can!