Do you love knitting sweaters, taking awesome photographs, painting, or making bracelets? Whatever your skill or passion, you can make money from it on Etsy.
The Etsy website is a popular e-commerce platform with over 2 million sellers offering for sale 60 million-plus handmade and vintage goods. The platform also has more than 40 million active buyers who are prepared, and love to buy all sorts of products.
So, are you convinced that setting up an Etsy shop is a good idea? You can open an Etsy store in a few minutes by taking the following steps.
1. Create an Etsy business account
Go to the Etsy website, and at the bottom of the home page, click on the "Sell on Etsy" link. On the page, you're directed to, click "Open your Etsy shop" to register an account.
At this point, enter your email address, name, and password, then click on the "Register" button, and you'll have created your Etsy account.
Alternatively, you can quickly create an Etsy account using your existing Apple, Facebook, or Google account.
2. Select shop preference
Once your account is open, you will be taken to the shop preferences page. Here you will choose the language you'll use to describe your products. English is the default language. When your shop is up and running, you will be given the option to translate to other languages.
You'll also be required to give the country your store will be located and the currency you'll use to transact business.
At the bottom of the page, you'll be asked to state whether you'll be selling full-time or part-time. This, however, won't affect the opening of your shop. After filling in the details required, click "Save and Continue" to move to the next stage of opening your Etsy business.
3. Name your shop
When it comes to naming your shop, you need to be creative. It would be good if your Etsy business has a name that is easy to remember and captures the attention of your potential customers.
Etsy gives the following guidelines when it comes to choosing a name for your shop:
The name should be four to 20 characters long.
Have no spaces or special characters.
Not be in use by another Etsy seller. If a name you come up with is already in use, the Etsy website will give you name suggestions.
The name must have no trademark infringements and no profanities.
4. Stock your shop
You're now a few steps away from setting up an Etsy shop. At this step, you'll add the items you plan to sell to the millions of buyers on Etsy.
To do an Etsy listing, you'll need to add good photos of your products, well-written item descriptions, the selling price, product quantities, shipping process, etc.
Be sure to check your listing to confirm it reads well before publishing it. Etsy recommends that new sellers, "Add as many listings as you can. Ten or more would be a great start. More listings mean more chances to be discovered!"
5. Select how you'll get paid

If you're in a country eligible to use Etsy Payments, you can choose this method as your preferred option to receive payment from customers who buy from you. If you're not eligible to use this service, you can use your PayPal account or have your money mailed to you as a check or money order.
6. Step up billing for Etsy fees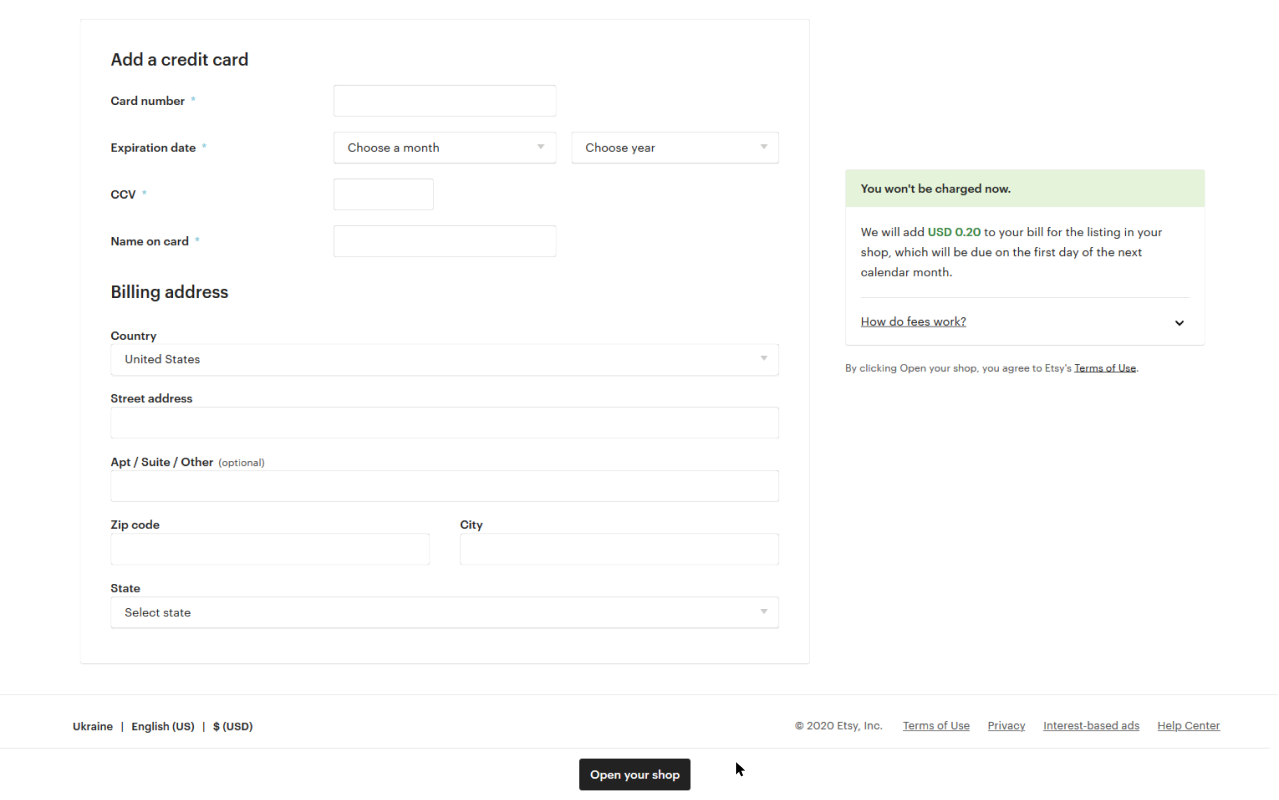 You'll be charged to use Etsy, so the final step to opening your Etsy store is choosing your account billing method. There are several fees you will incur for using the Etsy marketplace, but the most common are:
Listing fees. For every product you advertise to sell on the Etsy website, you'll pay $0.20. You pay this amount whether the product sells or not. Each listing is valid for four months, after which you have to pay another $0.20 if you choose to renew the listing.
Transaction fees. For every item you sell, Etsy will take 5% of the total sale cost, which includes the shipping and gift-wrapping cost.
Etsy Payment processing fees. If you choose Etsy Payments to process payments from customers, you'll be charged each time you sell a product. How much you pay depends on your location. For example, if you have an Etsy shop in the US, you'll be charged 3% plus $0.25 per transaction. You can learn more about Etsy fees here.
You might have to give your credit card details at this stage. If asked to do so, the card you provide must be Visa, Mastercard, American Express, Discover, or Carte Bleue for those in France.
Once you're done setting up your billing click, "Open Your Shop" and you will be ready for business. The web address to your shop will be, "https://www.etsy.com/shop/yourshopname", or "https://yourshopname.etsy.com".
Conclusion
You see, setting up an Etsy shop is pretty straightforward. When you open your shop, you have to do some work to make your small online business visible. But you don't have to do this yourself.
EtsyGeeks can help you increase your store's visibility on Etsy. We do this by helping rank your store for product keywords in your niche. The service we provide should make your products rank in the Etsy's search engine top 10 in a few days.
With a higher Etsy ranking and increased traffic, you should make your first sale in no time.
Get in touch with EtsyGeeks today, and let's work together to make your Etsy business a success!
---