Valentine's Day Etsy sales are an opportunity to get lots of customers to fall in love with your shop! Global Valentine spending is set to reach $24 billion this year and Etsy, like in 2021, will take a healthy share of these starry-eyed sales.
After all, the Power of Love really fits in with Etsy's reputation as a unique, intimate, and personal marketplace.
Would you like a long-term relationship with Etsy buyers? Do you want your customers to only have eyes for you? Our Valentine's Day Sales tips will put you on the right path to Everlasting Buyer Love!
Be My Etsy Valentine
Etsy is huge, but you're only one in a crowd of approximately 4 million sellers competing for about 80 million buyers. To get loving relationships, you need to be an Etsy Casanova!
That means you must:
Look

really

good

Offer everything your buyer partner wants

Communicate kindly

Be completely trustworthy
Oh … and you want to make other potential partners very jealous!
That all seems straightforward enough, but exactly how do you stand out from the Etsy seller crowd?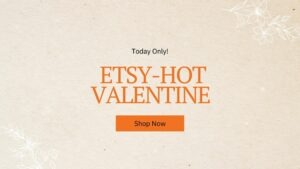 Tip 1: Your Store = Etsy-Hot Valentine 
Be Beautiful Crazy
When it comes to looking hot on Etsy, it's all about the visuals. Scroll through pages of popular Etsy gifts after filtering keywords, location, high review scores, (free) shipping, and price range and there will still be thousands of options. But which of the many fish in the sea will catch your eye?
The winner is guaranteed to offer all of the following:
Top ranking results page position

Tempting text

Perfect pic
We'll look at Etsy Valentine's Day SEO later; your text is also a mix of attraction and optimization. 
But the right image speaks a million words … just ask Tinder!
A unique, professional-looking, honest photograph is the only truly visual way to make buyers swipe right. But there's more. Valentine's Day sales always mean gifts. Even so, too many Etsy sellers forget to show how the gift will look in its packaging.
Who wants to receive a Valentine's rose in a plain cardboard box? Forget to show how your product will look when it arrives at the door, and buyers will probably assume you're skimping on the beauty routine. For such an important, adoring event, product beauty should be skin-deep!
Don't forget to add alt text for every image via Shop Manager. It's not clear whether Etsy has included this feature in their internal search engine algorithm … yet, but it definitely plays a role as far as Google searches are concerned!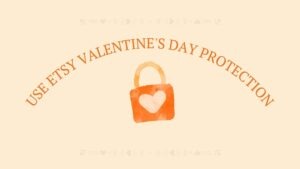 Tip 2: Use Etsy Valentine's Day Protection
Beware of Catfishers!
Other sellers on Etsy always try to elbow in on your buyer relationship. Most of the time, this is healthy competition. And when you prove to your buyers that you are the one, they'll be less tempted to leave you. But what about sellers who pretend to be you?
Etsy community forums are brimming with catfishing complaints. Some sellers steal pictures, item descriptions, and even logos to seduce your customers.
That's illegal.
The problem is, this happens a lot. So Etsy can't rectify this situation quickly. They expect you to fill in and file a Digital Millennium Copyright Act or DMCA. And then you have to wait … sometimes in vain.
But there are things you can do to stop theft.
If you've taken note of tip one, you've got unique, attractive pictures that sell your products. So it's important you add a discreet watermark with a copyright sign. They're your photographs, so you have the right to copyright them. It's not enough just to put your Etsy shop logo in one corner. That circled C is essential.
That way, if your images are stolen by another seller, you can send them a polite, official-sounding warning message. Refer to the copyright rules and say you have filed a DMCA. According to Etsy forums, this is usually more effective than the Etsy service.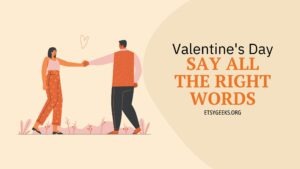 Tip 3: Best Etsy Store Customer Care Practices
Say All The Right Words
For successful Etsy gifts and a profitable Etsy shop, using the right words and phrases is essential. You have to say what your customers want to hear. But you have to mean what you say! Of course, this has a lot to do with Etsy SEO. But it also means letting your new customers know exactly what to expect. Honesty is essential for any long-term relationship.
On Etsy, honesty means:
The product image represents the sent product

No hidden costs

A returns policy

A non-delivery or late delivery policy

Replying to customer queries in good time
For most top Etsy sellers, honesty is just part of the package. It doesn't take too much effort to say what you mean and mean what you say. The toughest part of Etsy marketing is getting noticed in the first place. AKA SEO. But SEO is a huge topic, and we've only got space for a limited number of Etsy Valentine tips and tricks.
If search engine optimization isn't your thing, or if you haven't got the time or the energy, you know you can come to Etsy Geeks! We know everything there is to know about the competitive Etsy Dating Site!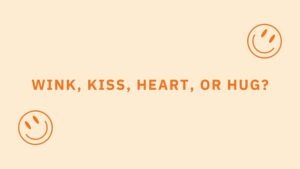 Tip 4: Should I Use Etsy Valentine's Day Emojis?
Wink, Kiss, Heart, or Hug?
If you're a top Etsy seller, you already use Etsy analytics or other, more powerful tools to regularly edit keywords. Getting long and short tail search terms right from mid January through to February 13th can propel you into the middle of a huge speed-dating event, or leave you singing All By Myself in a lonely room.
But with 4 million potential suitors, you won't be the only one using those keywords.
That's where emoji's add a little sparkle to your Valentine's Day Etsy Seller profile. Don't go overboard. And unless you're selling tacky Valentine's gifts, don't be tacky. Your choice of emoji code should be as carefully thought out as your choice of tags, page title, categories, and attributes keywords. 
Bear in mind, one emoji takes up a massive nine characters and a space in any product title tag. Instead, give your Etsy store banner a makeover for this special occasion. You can go bigger and bolder, like the flashiest peacock!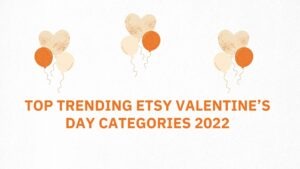 Tip 5: Top Trending Etsy Valentine's Day Categories 2022
Because Everybody Loves Somebody
For our final tip, it's time to look at what's hot in Etsy Valentine's Day sales. However much work this means, you should be supplying gift options for everyone. 2022 trending Valentine's gifts categories differ only very slightly from last year. The COVID-19 pandemic seems to be losing the fight; countries are starting to relax restrictions. So last year's DIY home dating ideas are no longer top of the list.
Personalized printed goods are very high on the list of Valentine's Day extras. Personalized messages, cards, photo books, and portraits as cartoon and anime characters are not only fun, cheap, and guaranteed to arrive on time, they don't need to be shipped. Sixty-five percent of consumers say they want to buy sustainable brands, and 56% won't buy from unethical ones. It makes good sense to provide downloadable Valentine's gifts that won't need to be shipped halfway across the globe.
The all-inclusive attitude is also plain to see in Etsy buyer trends. More and more children receive Valentine's gifts from their parents. Naturally, COVID-19 also stopped kids from having normal social lives, and mums and dads have got into the habit of making a difference, however small. Pets also receive gifts on Valentine's Day, as do BFFs, and best friends almost forever.
So, what trending Valentine gifts should be on your Etsy store shelves?
Jewelry

Chocolates and candies

Flower arrangements

Printables

Spa products and massage oils

Lingerie and men's underwear

Funny gifts and joke gifts

Cuddly toys and squeaky toys (for pets)

Sex toys and games

Perfumes and aftershaves

Luxury home and fashion items

Professional portraits

Books and diaries
But never forget to add the magic word to the start of every product.
Personalized.
After all, personalization is what Valentine's Day is all about. Showing someone how special and unique they are.
And that's what Etsy is supposed to be all about, too. A unique marketplace that verges on the quirky and has a heart and a soul. 
We're Right Here Waiting
❤️
Your Valentine's Day strategy should be well underway. In fact, your Easter and Summer Sale marketing plans should already be in the pipeline. If this isn't the case, you might need a hand to hold. Etsy Geeks are the perfect partner for everything Etsy. We've been in a monogamous relationship with this marketing giant for years and years.
So whatever your Etsy needs – whether you need help finding the right products or want to race up the rankings – you know you've got a friend in Etsy Geeks.