We all know Etsy is the ideal place to sell gifts, handicrafts, handicraft supplies and one-off, unique items. Whether you sell vintage fashion or antiques, popular décor, or handmade furniture, Etsy is a global seller's paradise. Well, at least it could be. If you can get noticed.
While any die-hard Etsy buyer will happily scroll through page after page to discover perfection, that takes dedication and time. Most Etsy buyers aren't die-hards. And that means Etsy SEO is essential. You want to rank high on the search results pages for EVERY item you sell.
Etsy top search results
One of the best ways to see what gets sellers top Etsy rankings is to carry out a non-personalized search. I avoided personalization by not logging in and used a UK IP address with a VPN. Then I typed in Large Red Vase. How many results? 2866.
If you're at the bottom of that list, halfway down, or even anywhere after the first 96 results (2 pages), your Etsy shop is NOT visible. To see what makes products visible, let's look at the top listings for my 3-word search query.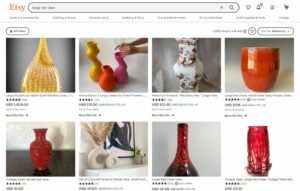 The first 4 results ALL use Etsy Ads. And strangely, only 1 of them is actually selling a big, red vase! So it's easy to see the power of Etsy Ads when it comes to top ranking.
But what's the point of your item appearing in results pages if it's not relevant to the buyer? How useful is paying for visibility if what you're selling is irrelevant to the buyer's query? There's only 1 scenario where you should definitely consider Etsy Ads. You'll find out exactly what that scenario is a little later on. But most of the time, when you get Etsy SEO right you don't need to pay for ads.
Because as you can see, of the next 8 results, NONE uses Etsy Ads. And only 1 result doesn't show a red vase. But look again. There aren't many large red vases in these top results, either. So I'm not going to find a lot of choices for my specific search term here. The relevance is still lacking, even in these top ranking listings. And even with my very impersonalized search.
But without Etsy Ads, these sellers still manage to get to the top of the page. And although each store can boast 4.5 to 5-star feedback, none are Etsy Top Sellers. So Top Seller status doesn't seem to be driving rankings, either.
Apart from one orange vase and the matter of size, these items are still more relevant than the top ranking Etsy Ads items. These sellers include at least 2 of my search terms in their product titles, although a couple haven't updated their entries. One even has the word 'Christmas' in the title – it's February. Only 25% offer free delivery to my fake UK address. The photos seem unique to the sellers but only a couple are high-spec images. Yet, these are the top 8 out of over 2,000 listings. How do they do it?
Why do popular Etsy Sellers rank low?
All … or at least the most important … Etsy SEO strategies will be revealed in just a minute. But looking at low-ranking items shows interesting trends, too. I landed on page 10 of my Large Red Vase search results. About 500 items in, I found something worrying.
Quite popular sellers are found on very low ranking pages. A couple of them had sold well over 1,000 items. So even the professionals are getting Etsy SEO wrong. The major issue on the lower side of the search results seems to be relevancy. But I don't just mean a lack of relevancy with keywords – most of the results have at least 1 of my search terms in the product title.
It's IMAGE relevance that's the problem. The bright reds of the top ranking item photographs above are almost completely missing a few pages on.
And that's SO important if you want to rank high on Etsy. Because the Etsy ranking algorithm looks at shape and color relevancy in EVERY product image.
How to increase visibility on Etsy
From my generic, non-personalized search, it's easy to make the following deductions:
Etsy Ads works but doesn't really take relevancy into account

Images affect Etsy ranking success as much as product titles and metadata

Practically every Etsy seller has top reviews, so top ratings are

prerequisite
So what should you be doing to stand out from the crowd of 5-star sellers offering the same types of products? Let's look at 8 primary ranking factor tips that the current Etsy algorithm uses to decide which page and row your listing gets.
Tip 1: Relevancy
The most important aspect of Etsy ranking is relevancy. And with personalized searches, this is even more crucial.
Every product tag, attribute, description, and title must match as many of the buyer's search terms as possible. That's Query Matching, and your Etsy future depends on it. But your product photograph must be JUST as relevant! If you sell a large vase in different colors, use multiple listings: Large Red Vase. Large Yellow Vase. Large Pink Vase. Each listing should show the relevant-colored photograph. But there's more to image relevancy than just color.
The Etsy algorithm can figure out simple shapes. A round plate will often pop up in search results if someone uses 'round' as a search term. And that round plate doesn't need to add the word 'round' to its tags, attributes, description, or title to appear on the listings page. Because the Etsy algorithm reads the round physical shape of the plate in the same way it does a written search term. 
From the results on my search, it looks like the Etsy algorithm also recognizes the basic shape of a vase. Because, if you noticed, there's a jug in the last screenshot. During my search, I also came across urns, flower pots, and bowls. Lots of these unexpected results didn't have relevant tags, titles, descriptions, or attributes. That means Etsy read these images as vases. Which also shows arty shots of common, recognizable objects from unusual angles WON'T help your ranking.
Tip 2: Listing Quality Score
If someone clicks on your listing but goes back to the results pages without spending time in your Etsy shop, your LQS goes down. And if you want to rank high on Etsy, that's a definite no-no.
Visitor interaction is vital. Making sure your feature text and additional images catch the eye and hold attention is just as important as your search page image and text. Why? The Etsy algorithm checks relevancy by looking at how interested a potential buyer is. If they don't stay on your product page, you're obviously not relevant to them. This isn't so much of a problem for initial generic searches. But it is when it comes to Personalized Searches.
Tip 3: Personalized Search
Once personalization kicks in, do the other Etsy SEO strategies have much point? Absolutely. While there's not a lot you can do to avoid being filtered out of free shipping searches when you sell very heavy items to global customers, you still need to optimize your product.
Personalization is just another term for relevance, after all. But instead of your product being relevant to consumer queries, your product needs to be relevant to consumer taste, history and behavior. This means knowing EXACTLY who your target groups are and catering for their needs. It can go as far as providing alternative listings for the same product based upon the needs of separate target groups. 
For buyers, personalization saves time and energy. For sellers, personalization means a LOT of extra work. But that work pays off in the end.
Tip 4: Recency
Personalized or generic, the more recent your listing, the higher it ranks. Every new listing automatically gets a boost. This is a crucial initial step for the Etsy algorithm. By checking a listing's performance during this period, it gathers the data it needs to rank it. So constantly refreshing your listings could put ALL your carefully considered SEO optimization strategies to waste. If you've done your homework and created a top spec listing, using the recency 'trick' could undo all your hard work.
Recency also applies to new Etsy shops. That's why many newcomers can't understand why their store ranking drops suddenly after a few days. It's a honeymoon period. Etsy needs to get to know your shop or your product before it puts you or your product into a ranking box. Unfortunately, the relationship is a bit one-sided. It's up to you to keep Etsy sweet once that honeymoon period is over.
Tip 5: Language
If you sell overseas, it's worth getting your listing translated by a marketing expert. You need someone who knows search term equivalencies in different languages and understands culture differences. Marketing departments fell over laughing at a much too literally translated vacuum cleaner advertisement. In the UK, "Nothing Sucks Like An Electrolux" was edgy. Sales exploded.
The same ad didn't have quite the same effect in the US. Because, in the US, when something sucks, it's useless. So make sure the language you use for your listing is optimized for the country that speaks it!
Tip 6: Shipping Price
Free shipping only got top ranking for a few generic results in my Large Red Vase search. But free shipping is a filter option that lots of potential customers automatically tick. It's practically expected. Furthermore, the Etsy algorithm gives you an extra boost for offering it.
If you can't afford to ship an article for free, do what your competition does. Hike the price to cover postage, then take advantage of that Free Shipping SEO strategy … for free!
Tip 7: Etsy Ads
If you've managed to optimize all of the above points, you probably won't need Etsy Ads. Unless the items you sell are particularly popular. Before opting for the paid ad service, check out your competition. What can you do to stand out?
As I mentioned before, there's 1 scenario where Etsy Ads makes all the difference. If your competitors are using the same search terms, high spec photographs, multiple listings for different colors, countries, languages, and target groups, and also add free shipping options, you should definitely consider paying for Etsy Ads.
Just remember, your listing might not be relevant to a buyer query. And if the buyer does click on your product, you'll pay a fee. But without that relevance, he or she might not stay on your page for long. In which case, irrelevancy via Etsy Ads could damage your LQS.
Tip.8: Etsy Geeks
Instead of doing all of the above (and consistently rechecking and editing your product listings in terms of holidays, target groups, and offers), why not get a professional to do the work? Not just any professional. 
EtsyGeeks have focused on Etsy marketing for well over a decade. That's all we do. Etsy marketing. Because of this, the Geeks at Etsy have become extremely good at getting top ranking for thousands of products.
Top Etsy Ranking = Top Etsy Visibility
Etsy ranking and Etsy visibility are interchangeable terms. You can't have one without the other. Because of that, it's hard to get started. But once you rank high, you're seen by the right groups. And when you're seen through relevant search queries, you keep ranking high.
Navigating your way through Etsy SEO is time consuming but always pays dividends. Personalization pushes sellers to really learn about their target customers; this is in keeping with all digital marketing channels today. What you learn on your Etsy SEO journey can be tweaked and applied to social media and websites. And vice versa.
Even so, the Etsy algorithm is constantly changing. The image relevancy factor is a recent addition that, over time, will get better and better at recognizing and sorting out more and more complex shapes and forms. Who knows what the next set of algorithm metrics will entail?