Etsy Christmas Crafts and holiday fever is in full swing. With 93% of Americans celebrating Christmas, along with over 150 other countries, your Esty Christmas Crafts should already be ranking at the top of your keyword listings.
If not, why not?!
Etsy SEO is a tough nut to crack. Every Etsy seller wants optimal visibility for top-selling products and uses these to tempt buyers to view less popular products. Competition is rife. But with billions of potential customers, there's no excuse for ignoring Etsy Christmas marketing.
Too overwhelmed? Or just want a guaranteed place at the top of the search pages? What about Etsy Geeks? We promise to get your chosen products into the search results top ten or your money back! Make Etsy Christmas 2021 the date that turns your business around!
Etsy Christmas Vendors Best Sellers

Adding additional holiday-themed stock to your current catalog brings in targets you would often have to spend hundreds or thousands to attract. And with Etsy buyers renowned for returning to the same sellers (when happy with the service), your Christmas card buyer could end up returning at Easter, Saint Nicholas' day and Black Friday. They'(ll look you up in time for their friend and family birthdays, or at any time they need one of the thousands of products now sold on this massive crafts and gifts marketplace.
Etsy categories all fit in perfectly with holiday occasions. Unique or personalized gifts as well as the materials to make them mean you're guaranteed sales … as long as the sellers can find you.
Last year, Etsy enjoyed a 241% increase in the UK searches for Christmas decorations alone. Other search rates had similar trends:
Fire pits: 197% increase
Outdoor blankets: 186% increase
Family games: 50% increase
DIY Christmas wreaths 165%
Plant embroidery kit gifts: 737%!!!
Care packages: 235%
Care packages? We're still not through the COVID pandemic. Many families and friends will be forced to remain apart from this Christmas. Others have opted to avoid the risk of traveling, even when permitted to do so.
And with 13 million new shoppers joining Etsy from October to December 2020 (over 75% more than the year before), predictions for Etsy Christmas 2021 buyer numbers are exciting/ If you get your marketing right, will you be able to keep up with all the extra orders?!
So let's look at just a few of the best items to add to your Etsy shop this year. Ones that have proven highly lucrative for the top Etsy sellers throughout the years. Truly tempting Christmas Etsy fare for every seller table!
#1 Jewellery
An Etsy top seller every time, jewelery gets particular interest in the weeks leading up to Christmas. From Remsay's raw concrete and pine modern mixes to Lemon Lime Creations hand stamped personalized layer rings, anything goes.
Personalization is an important feature; giving your buyers the opportunity to order something with special meaning increases your chances of sales. As jewellery is a very personal and intimate gift, this makes perfect sense. If the jewellery you sell comes from pre-fabricated stock, allowing buyers to order a personalized gift card or gift box is the next best thing. Lightweight jewelery means you can go above and beyond a basic cardboard box.
Design your own pieces? It might be a little late this year, but what about giving potential customers a little leeway? Let them select from a range of stones, metals, engravings and/or sizes? The more personal you can make your Etsy Christmas crafts, the better!
#2 DIY Advent Calendars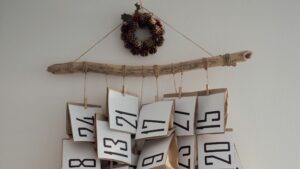 At Christmas, anticipation is half the fun. And since the early 20th century, we've used them to count down the winter days. The first printed advent calendar featured pictures. Doors to hide these images were only added in later years. It didn't take long for marketers to add chocolate, candy, messages, toys, and other fun rewards.
DIY advent calendars have really taken off and, like jewellery, this has a lot to do with personalization. But it's also a cost-saving item in terms of shipping costs. Buyers can decide for themselves what they want to put behind the doors. They can even print out a template at home. Find ways to use old stock (small boxes, pots, frames and even baby booties to cash in on the advent calendar rush that begins at the start of November.
The design principles behind advent calendars have spread to other products that can be used throughout the year, like Act of Kindness and event preparation calendars. If you're making advent calendar sales, how about tapping into the market for the rest of the year?
#3 Christmas Hot Chocolate/Cocoa Kits
Nothing beats a crackling fire, Bing Crosby, and a hot chocolate on a Christmas evening. And whether you sell hot cocoa as part of a care package or as a stand-alone item, there's a huge market out there. Organic, planet-friendly options suit the season of goodwill, so natural, handmade products are pretty much essential.
Remember to add a tempting word that speaks to the senses in your product title. Decadent, Creamy, Luscious, Velvety …
Let your customers know they're getting quality using terms like: Luxury/Luxurious, Gourmet, Thick, Dense, even Pudding-Like . Most consumers know about cacao quality, so include the percentage.
Do you make your own hot chocolate mixes? Then Christmas spices are bound to attract interest. Cinnamon, cloves, nutmeg and ginger are synonymous with this time of the year, but warming spices like chili or cayenne, and even tangy Christmasy herbs like sage, myrtle and thyme, could broaden your offerings and bring in the many true hot chocolate aficionados who browse Etsy. Plum pudding hot chocolate, Christmas candy hot chocolate, orange and clove pomander hot chocolate … the possibilities are almost endless!
And once you get a following, you can adjust your recipes for other holidays. Marzipan at Easter, cranberry for Thanksgiving, and what about a little whisky for a St Patrick's Day version?
#4 Personalized Pet Tree Ornaments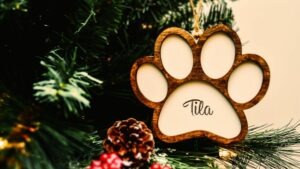 We've already seen how personalization is central to the Christmas period. And it's also central to Etsy … one of the reasons this marketplace does so incredibly well at this time of the year.
Etsy Christmas ideas are inexhaustible, it seems. And one of the more recent products is the pet ornament. Remembering four-footed (and two-footed) friends from the past or celebrating current furry (or feathered) family members adds a little extra to the celebrated Christmas tree.
Artists in the months running up to Christmas may be inundated with requests. Good planning is essential. Simply adding personalized names to a different dog and cat breeds have earned a healthy turnover for many Star Sellers.
For most families, big and small, the pet is simply another member. Dogs, cats, budgies, snakes, rats, ferrets … a huge number receive gifts along with the human members of the family at Christmas. Extending your catalog to cater to these is a smart move. Pet care package? Whyever not?!
#5 Other Unusual Christmas Tree Ornaments
What about hanging a chicken nugget wearing a Santa hat on your Christmas tree? Yes, you can buy one … or a set … on Etsy! Stores are even selling empty COVID-19 vaccine bottles to add a little hope and health to the Tannenbaum.
Perhaps you're thinking of selling Etsy crafts DIY outfits for dolls that look like members of the family? Maybe some famous figures, or a Christmas lobster or blobfish? You'd be amazed what people like to hang on the branches of this central feature of the living room.
Here is where the creative spirit of Etsy can really take off. Every event, every consumable, every emotion and every species has a place on someone's tree. The whackier and more unique, the better. With lots of visitors knocking on the door, unusual tree baubles and ornaments are a great conversation starter.
#6 Christmas Themed Candles
We're as much into candles now as we were before the advent of the gas lamp! And as a simple crafting product with plenty of choices in terms of molds, scents, shapes and colors, it's to be expected that candles earn lots of money (and feedback) as an Etsy best seller for many stores.
There's only one problem – candles aren't lightweight. Shipping costs can way outweigh the cost of the candle. Because of this, global supply is often left to the big suppliers, with crafters selling their wares within their own countries.
Even with a limited public, Christmas can bring in plenty of buyers.
And people are prepared to pay for a good quality candle. Fornasetti candles, one of the most expensive candlemakers on the market, use scents created by the top perfume houses, like the House of Chanel. The ceramic pot leftover once the candle has burned out can sell for as much as the unused article.
But most Etsy Christmas vendors don't work in tandem with Parisien perfumeries and can't command the same prices. Etsy candle prices rarely reach the $50 mark, no matter how high the quality.
The perfect gift for people you don't know too well, or an encouraging one for the family teenager's bedroom, there's definitely a large market at Christmas. But with knowledge growing over the dangers of phthalates, chemicals often found in fragrances, the more natural your sources, the better.
#7 Personalized Letter To Santa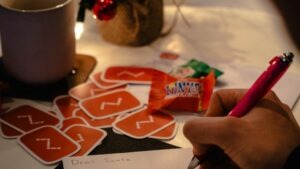 Dear Santa letters but also official letters mailed to the kids from Lapland are another popular Christmas-themed gift idea on Etsy.
Official-looking versions, letters you can color in, letters to hang on the Christmas tree, cheeky adult versions … keeping the Father Christmas myth alive is all part (and parcel) of December 25th. The tradition first started in the late 1800s, either by parents pretending to be Santa in an attempt to make their children behave, or by children hoping for something other than a pair of socks. The Times published one letter in 1874 that asked for a four-wheeled wagon, two packs of pop-crackers and a Mother Hubbard book. Rather modest when we look at today's long (and expensive) lists.
For the children who have taken the time to question the logistics, live in a home with a heat pump and not a chimney, or argue for the animal rights of Dasher, Dancer, Prancer, Vixen, Comet, Cupid, Donner, Blitzen and Rudolph, Christmas wish lists are a less patronizing option. Letters and wish lists often end up in a memory box alongside old birthday and Xmas cards, photographs, first teeth and school reports. So any materials that last and don't fade should be mentioned in the product description.
#8 Christmas Home/Cake Decor Supplier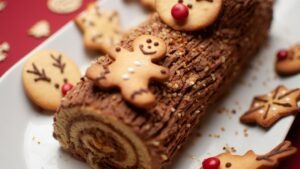 Type 'Christmas decorations' in the Etsy search bar and it will take until next Christmas to scroll through the results. As the phrase 'Christmas cake decorations' provides about a third as many results, finding the smallest, cheapest items probably involves more financial expenditure in terms of time and energy than Christmas presents themselves.
Both categories are perfect candidates for combination selling. Especially when the items you sell are low cost ones. Even with free shipping, very few buyers will feel content making a $0.50 order. Although no calculation has been made, Etsy forum members describe a per-order average of around $20. That's a lot of Christmas snowflake sprinkles, so make sure you list a few combination ideas.
It's now nearing the end of November and unless you can guarantee shipping times – in other words, if you don't distribute products that first need to be shipped out of China or another far off country – it's getting late for selling Christmas decor. Make sure your potential buyer can see you offer rapid shipping without having to scroll too far or navigate another page.
#9 Handmade Personalized Christmas Cards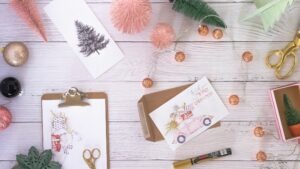 Another buy that should be on sale by early November is the paper personalized Xmas card. Stemming from the European tradition of sending Christmas cards featuring a family photo (often from a very non-Christmassy period, such as a holiday in the rainforest), it's easy to transfer this custom to modern times. Etsy Christmas 2021 versions are on the whole 100% digital products.
Digital nomads, therefore, are ideal candidates for png file designs that allow the customer to upload photographs, basic descriptive information and Christmas message. Once the design is complete, there's no waiting time.
Etsy Christmas vendors selling postal versions – handmade Christmas cards personalized according to the instructions of the customer – should be seeing activity start to wind down. And the item that needs to be posted should reach the customer before Christmas day. Not necessarily because you want to see the happy faces of the children on that day, but because you don't want to see the buyer's denial of Christmas postal chaos in your feedback. If you can't guarantee delivery by Christmas, take your product off the shelf or – at a minimum – write an extra sentence in your item description to prepare the customer for disappointment.
#10 Christmas Gift Wrapping Add-On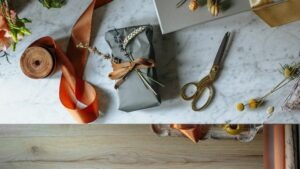 Since 2017, Etsy and sellers who accept the gift wrap option have provided present wrapping services for buyers. This option has three main advantages:
More last-minute buys by those who leave their Xmas shopping too late
Increase the price of your product by up $4
Improve feedback (when you're very, very good at wrapping presents)
If you're not particularly good at gift wrapping, don't select this option! A non-pristine package could lower your feedback score and your chances of becoming (or remaining) a Star Seller.
If you love straight lines, know how to use a glue gun and have a selection of ribbon and paper that suits the profile of the recipient, it's easy to add this extra service to your clients. Simply turn on the Etsy Christmas Gift Wrap add-on in your shop, set the price (don't charge over $4.50 or you'll lose customers and upload the type of paper and decoration you will use (give the customer a choice of multiple designs and colors). Always include a picture of the final product. And make sure your own work can keep up this advertised standard.
As gift wrapping materials bought for commercial purposes are low cost (and can also be written off on the tax form), this add-on is a way to increase per-product revenue. Of course, if it takes you an hour to wrap each item or you have to pay someone else to do it, don't tick the box and leave gift wrapping to the sellers that work tidily, quickly and efficiently with their low-cost materials. Wrapping a $10 gift in 2 minutes with paper and a bow that cost you 20 cents bumps up the selling price. Why? Most buyers are prepared to pay up to $4 per item. Your $10 item has now sold for $13.80.
#11 Bonus: The Etsy Forest Pine Christmas Wreath
An additional bonus idea for the professional crafter? Etsy has become extremely well-known for celebratory and memorial wreaths, especially in the U.S. And with the current drive toward natural products, Christmas forest pine versions with berries, pine cones, and scented, needled branches are a December staple.
As with many of the products on this list, materials can be tweaked to suit a whole range of occasions. French herbs, boxwood, eucalyptus … strong sellers that, when made well, provide a healthy income for a whole group of sellers.
Can We Help?
Of course, it's one thing to make something for Etsy and quite another to sell it! No matter how popular the gift or the time of the year, visibility is key. And getting to the top of categories that feature hundreds of thousands or millions of results takes time and energy. If you opt for Etsy Ads, it takes a lot of money, too.
Not to mention setting up and maintaining social media accounts and websites, taking high definition, attractive shots of your products, thinking up the right title that attracts the most interest. Etsy marketing can be a full time job in itself.
But we're here.
Etsy Geeks know everything there is to know about Etsy SEO. We know so much, we'll get your products in the Top 10 of your category, no matter how many listings there are!
If we don't, we'll return your money. Guaranteed.
And what do you do?
You focus on making the products and providing customer service excellence, of course!